The Cafeteria Web Part displays the cafeteria menus either in a weekly view or as just today's menu.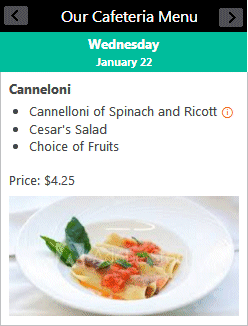 Web Part Configuration:


Title:
enter the optional web part title

Web Part:
AEListItems

Configuration:
enter the below configuration options:

site=SiteUrl (optionally enter a site URL)
list=TeamCalendar (enter the name of the Sharepoint list)
view=SomeView (optionally enter the name of the list view)
template=enter the column names enclosed in curly braces to be displayed including any HTML tags
today=1 (choose the single day view)
weekend=1 (include Saturday and Sunday)
addnewitem=1 (display the "Add new item" button)
pagesize=10 (enable paging and set the page size)
header=Our Cafeteria Menu (optional header text)
footer=Opening hours.. (optional footer text)
webpartstyle=CSS styles (assign CSS to the web part table)
headerstyle=CSS styles (assign CSS to the table header)
footerstyle=CSS styles (assign CSS to the table footer)
weekdaystyle=CSS styles (assign CSS to the day titles)

Please enter a comment below if you want to give feedback or have suggestions for improvements:
User Comments
Post a Comment



marina


6/23/2022 09:10
Hi,
I need to display our menu RTL and Friday-Saturday weekend, is it possible? Thanks

Juerg


6/23/2022 13:53
Marina,
are you using "Arabic" as your site language and are you using the "Hijiri" calendar format ?