The "Event Manager" web part allows you to create an easy-to-use event management system.
Users can register and un-register, view the event details and add events to their personal mailbox calendar.
The web part automatically creates the "AEEvents" calendar list and the "AEAttendees" list in the current site.
Administrators can also add and edit events, view the attendees list and send e-mails to the attendees.
The events can be flagged as "Draft", "Published" and "Cancelled".
An optional image can be assigned to each event by adding the image as an attachment to the calendar list item.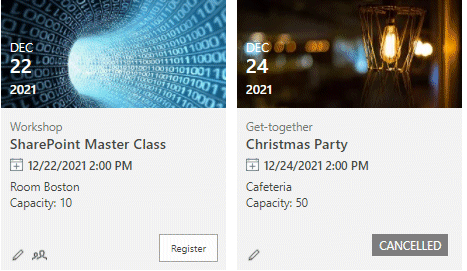 Web Part Configuration:


Title:
enter the optional web part title

Web Part:
AEEventManager

Configuration:
enter the below configuration options:

site=SiteUrl (optionally enter a site URL)
list=AEEvents (enter the name of the Sharepoint calendar)
view=some views (optionally override the default views)
template=enter the column names enclosed in curly braces to be displayed including any HTML tags
groupby=enter the column to be used for grouping
items=enter the number of items to be displayed (enter '0' to show all events)
searchbox=enter the columns to be used for interactive filtering
css=optionally enter the CSS style to be applied to each event
addnew=no (hide the "Add new event' button)
linktarget=2 (specify how to open the linked items)
pagesize=10 (enable paging and set the page size)
wpcss=optionally enter the CSS styles to be applied to the web part)
Please enter a comment below if you want to give feedback or have suggestions for improvements: