The AE Sitemap Web Part allows to display the sites within the current site collection either as tiles or as a tree view.
By default, it displays the subsites of the current site.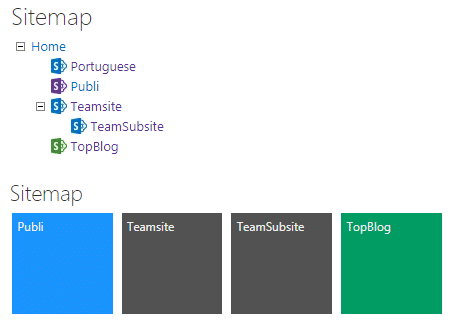 Web Part Configuration:


Title:
enter the optional web part title

Web Part:
AESitemap

Configuration:
enter the below configuration options:

type=Tiles (switch to the "Tiles" view)

Tiles: Tile view
Tree: Tree view
Orgchart: Organization chart view
List: List view

site=Site Collection URL (if displaying sites in another site collection)
css=your CSS styles (optionally enter the CSS styles)
levels=3 (specify the number of site sublevels to expand)
allsites=1 (allow to display all the sites within the site collection)
Please enter a comment below if you want to give feedback or have suggestions for improvements:
User Comments
Post a Comment



VC


12/7/2021 21:17
I guess since I don't see my administrator doesn't have it as an option.

Juerg


12/8/2021 12:14
VC,
do you mean that you do not see the web part liste when adding a web part to the page ?
If yes, did your administrator already install the wb part ?