Hero Web Part
Monday, October 01, 2018
The Hero Web Part adds a compelling design element to your page. You can display up to five items and use images, color, text, and links to draw attention to each.
The Web Part can be used with Sharepoint 2010, Sharepoint 2013 and Sharepoint 2016.

..

more..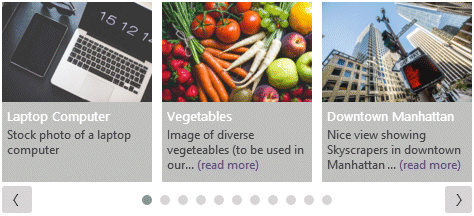 SharePoint Image Menu Carousel Web Part
Sunday, June 17, 2018
The Image Menu Carousel Web Part displays the pictures contained in a Sharepoint Picture Library arranged horizontally. The images scroll automatically (as a slide show), via buttons and/or via swipe.
The Image Menu Carousel Web Part optionally displays the image title and/or the image description.
Each image can optionally be linked in order to create an image menu.
The web part can be used with SharePoint 2010, SharePoint 2013 and SharePoint 2016. ..

more..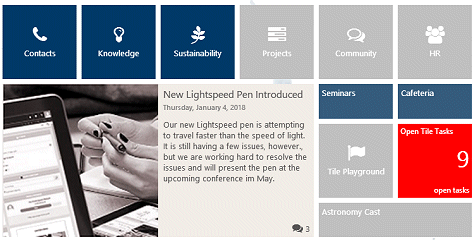 Tiles Web Part
Thursday, March 22, 2018
The Tiles Web Part allows to easily create a compelling homepage or navigation without having to set up a multitude of web parts and/or create custom page layouts. It also includes a multitude of specialized tiles to display list items, weather information, Twitter and RSS feeds and videos.
It arranges the tiles in a freely designable responsive grid containing tiles of varying size and functionality.

The Web Part can be used with Sharepoint 2010, Sharepoint 2013 and Sharepoint 2016 .

The Tiles Web Part lets you:



define the default tile dimension (typically square)

define a custom color palette to adhere to your corporate branding

CSS styles to customize the look and feel

Tile security trimming by Sharepoint groups or AD groups

define personal tiles (each user can configure his/her own tiles)

define a page backdrop (color or image) and lets you disable the Quick Launch menu

add tiles of different functionality:




Text or Image only


linked tiles with text and/or icon and/or image background


display list items (as eg. "top news", "most recent blog posts", "new documents" etc.)


rotate content (text and/or images)


random information chosen from a Sharepoint List or Library (text and/or image)


the current date


World clock


Google Map


KPI information


RSS Feed


Stock Quote


Twitter tweets


Weather information


Video (embedded or popup)
..

more..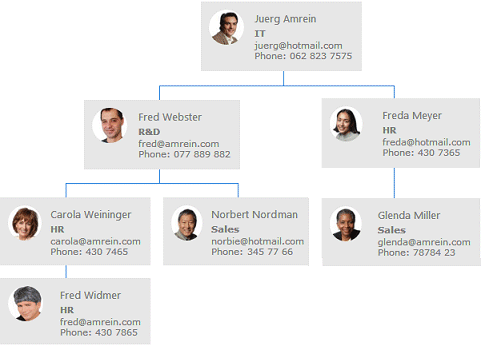 Organizational Chart Web Part
Wednesday, December 13, 2017
The Org Chart Web Part displays the organizational chart based either on the SharePoint User Profile Store or a SharePoint list. It allows to navigate up and down the organizational hierarchy by clicking on the chart items.

The Web Part can be used with WSS 3.0, MOSS 2007, Sharepoint 2010 Foundation and Server, Sharepoint 2013 and Sharepoint 2016.
..

more..

Office 365 Web Parts
Monday, October 02, 2017
We recently started to re-create our Office 365/SharePoint Online web parts using the new Microsoft SharePoint SPFx Framework which is the recommended and future-proof way to create web parts for Office 365. These web parts can be placed both onto modern and classic pages.
The below web parts are already available in the new format and we'll continuously add more web parts in the course of the next weeks and months:









..

more..


©2018 AMREIN ENGINEERING AG
News Archive

SharePoint News Carousel Web Part

Upcoming Events Web Part

Free Sharepoint Web Parts
SPFx Web Parts »
View all Web Parts »

Choose Language:



Partner Logon