The Employee Directory Web Part reads the user entries from a Sharepoint List and displays the selected user fields as a list.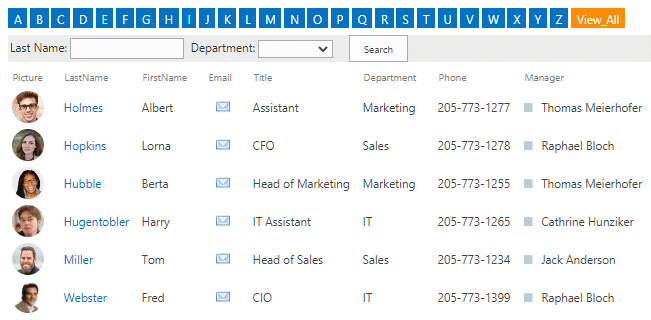 Web Part Configuration:


Title:
enter the optional web part title

Web Part:
AEPoll

Configuration:
enter the below configuration options:

site=Site URL (if the list is located in another site)
list=Name of the Sharepoint list
view=Name of the list view (optional)
sortby=LastName (enter the column to be sorted)
groupby=Department (enter column to be grouped)
template=enter the list to be displayed)
azcolumn=FirstName (enter the column used by the AZ index)
search=LastName (enter the search filter columns)
pagesize=10 (enter the number of lines per page)
dataseries=enter one or more data series columns
thumbnails=36 (enter the photo size in pixels)
detailview=LastName (enter the column linked to the detail view)
css=enter any custom CSS styles
Please enter a comment below if you want to give feedback or have suggestions for improvements:
User Comments
Post a Comment



Harry Scheper


6/28/2022 16:33
We have installed the Employee Directory (list based) and populated it. Works awesome, except for one issue that I can't figure out. Detailview works for IE11, but not for Chrome, Firefox or Edge. I have configured all three to allow popups for our sharepoint site, but still it will not show detailview.
Thoughts?

Juerg


6/29/2022 11:55
Harry,
please download the most recent version of the web part (V1.2.42) and then update the farm solution to fix this issue.