The Team Members Web Part reads the selected user entries from the Sharepoint Server User Profile Store and displays the selected user fields in a grid.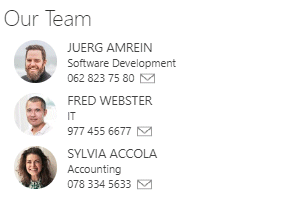 Web Part Configuration:


Title:
enter the optional web part title

Web Part:
AEXTeamMembers

Configuration:
enter the below configuration options:

group=Home Members (defines the SP or AD group)
bgc=white (optionally defines the web part background color)
color=black (override the default text color)
cache=120 (optionally enter the cache duration in minutes)
aepresence=0 (disable the user presence indicators)
search=1 (display the interactive search filter)
nbrcolumns=1 (enter the number of columns ("0" = responsive)
filter=filter expression (filter the users by a filter expression)
template=HTML template (define your own layout)
sortby=someUserProperty (sort the items by the specified property)

Please enter a comment below if you want to give feedback or have suggestions for improvements:
User Comments
Post a Comment



Qun


10/26/2021 14:02
We have sharepoint 2019 modern UI? How can I set die nummer of columns, please?

Juerg


10/26/2021 14:48
Qun,
please re-download the web part from /apps/page.asp?Q=5819 and then update the solution.

You now can enter the number of columns via the "Configuration" web part setting as eg.:

nbrcolumns=3

Entering "0" results in a responsive layout.