The Picture Slideshow Web Part sequentially displays the images contained in the specified Sharepoint Picture Library.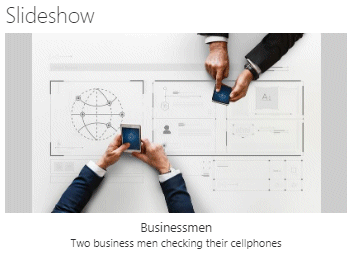 Web Part Configuration:


Title:
enter the optional web part title

Web Part:
AESlideshow

Configuration:
enter the below configuration options:

site=Site URL (if the picture library is located in another site)
list=Name of the picture library
view=Name of the list view (optional)
speed=Slideshow speed in milliseconds (default=4000)
caption=1 (enables the display of the iamge caption)
showpager=1 (displays the slide pager at the bottom)

Webpart Homepage & Download »
Please enter a comment below if you want to give feedback or have suggestions for improvements:
User Comments
Post a Comment



Lavanya


9/1/2020 13:17
I need the source code, developed in spfx.

A


11/27/2021 14:15
Can the webpart be modified in settings to appear in POTRAIT and LANDSCAPE sizes? I see no configuration for width and heights!

Juerg


11/29/2021 11:51
A,
please set the desired web part height via the web part's "Height" setting (in pixels).
The web part will then use the configured height and then automatically sets the picture width to preserve the picture's aspect ratio.

Linda


12/21/2022 20:13
Can you link the images in the slideshow to documents

Juerg


12/22/2022 15:27
Linda,
if you add a library column named "URL" (of type "Hyperlink or Picture") to store the document URL's, the images are then linked to the corresponding document.
Please note that we had to update the SP 2019 version of the web part to open the links in a new browser tab, so please re-download the web part and then update the farm version.