This example shows how to configure a tile to open another Tiles web part in a dialog window to implement a submenu.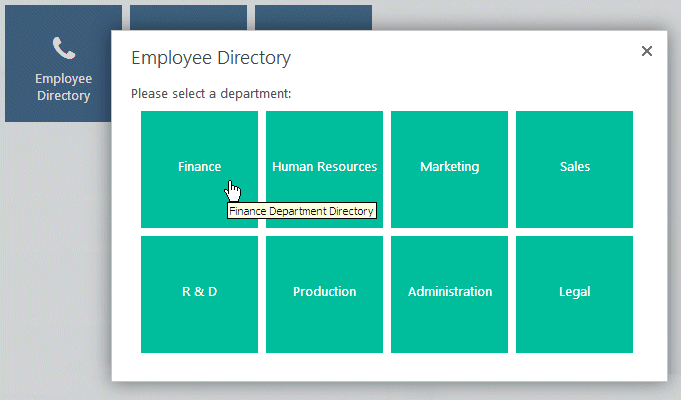 Configure the Tile as follows:


Title:

Employee Directory/hide


Description:

[fa-phone] Employee Directory


Tile Type:

Tiles


Content:

instance=EmployeeSubmenu css=color:white columns=4 header=Please select a department: edit=no


The optional "instance" parameter assigns a unique ID to the Tiles web part displayed in the dialog window.
The "edit=no" parameter turns off the edit buttons in the submenu (typically done after having finished the submenu configuration).
The "columns" parameter specifies the number of columns to be used in the submenu.
The optional "header" parameter specifies the subtitle to be displayed in the submenu.
Please enter a comment below if you want to give feedback or have suggestions for improvements:
User Comments
Post a Comment



Sebastian


3/10/2020 13:16

Unfortunately I can't change the Tyle Type to "Tiles". Since this is not shown.

Juerg


3/10/2020 13:28
Sebastian,
the "Tiles" Tile type was added with version 1.0.71 on February 4, 2020. Please update the web part if your version is older.
Please then navigate to the "AETiles" list, choose "List settings" and then add the below entry to the "Tile Type" choice field:

Tiles

Dan


11/19/2020 22:04
How do I configure the sub links?

Juerg


11/20/2020 12:01
Dan,
please either remove the "edit=no" or add "edit=yes" to the tile's "Content" setting to enable editing the submenu tiles.

Dan


7/12/2021 21:32
What goes after "instance" to hide edit options for submenu? I know the edit=no but what immediately proceeds instance to distinguish what specific submenu?

Juerg


7/13/2021 12:20
Dan,
just assign a unique instance name to the submenu as eg.

instance=SomeUniqueText
edit=no

The most recent version (V1.0.117) of the web part also makes the "instance=xx" parameter optional (eg. a unique value is automatically assigned)

Riley


8/13/2021 21:27
We have a wierd incident where users get a "Sorry, you don't have access" even thought they have read & contribute... However, when we give a user Site Collection permissions (and then remove it) they have access to the sub menu tiles. If we remove the site collection and grant the user full control (maybe cached) they will still be able to view the sub menu until we move them back to Contribute/read, they lose it again. Thoughts

Juerg


8/16/2021 12:19
Riley,
we were able to locate and fix this issue.
Please re-download the most recent version from our web site at /apps/page.asp?Q=5902 and then update the web part solution.