This example shows how to configure a tile to open another Tiles web part in a dialog window to implement a submenu.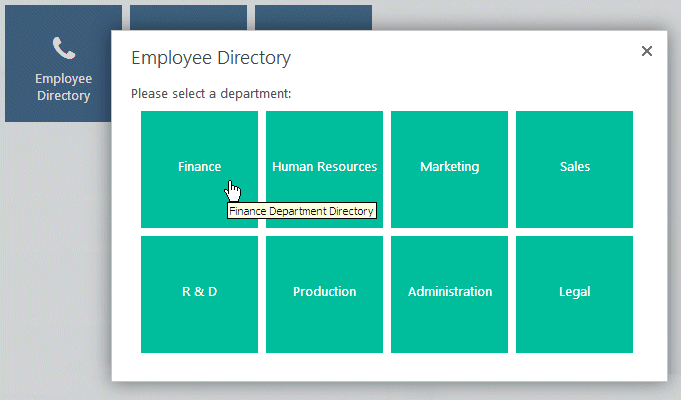 Configure the Tile as follows:


Title:

Employee Directory/hide


Description:

[fa-phone] Employee Directory


Tile Type:

Tiles


Content:

instance=EmployeeSubmenu css=color:white columns=4 header=Please select a department: edit=no


The optional "instance" parameter assigns a unique ID to the Tiles web part displayed in the dialog window.
The "edit=no" parameter turns off the edit buttons in the submenu (typically done after having finished the submenu configuration).
The "columns" parameter specifies the number of columns to be used in the submenu.
The optional "header" parameter specifies the subtitle to be displayed in the submenu.
Please enter a comment below if you want to give feedback or have suggestions for improvements:
User Comments
Post a Comment



Sebastian


3/10/2020 13:16

Unfortunately I can't change the Tyle Type to "Tiles". Since this is not shown.

Juerg


3/10/2020 13:28
Sebastian,
the "Tiles" Tile type was added with version 1.0.71 on February 4, 2020. Please update the web part if your version is older.
Please then navigate to the "AETiles" list, choose "List settings" and then add the below entry to the "Tile Type" choice field:

Tiles